In part 1, I explained why EV's (Electric Vehicles) will soon deliver the killer blow to gasoline and thus oil production –
but is it correct to put so much weight on the automobile sector, and how can we be sure that fossil cars will soon be buried, and when will this burial take place?
Now this article is all about the death of Oil.
I have been focusing on Cars. Is that a correct focus? Let's look at the numbers—first total supply and the demand: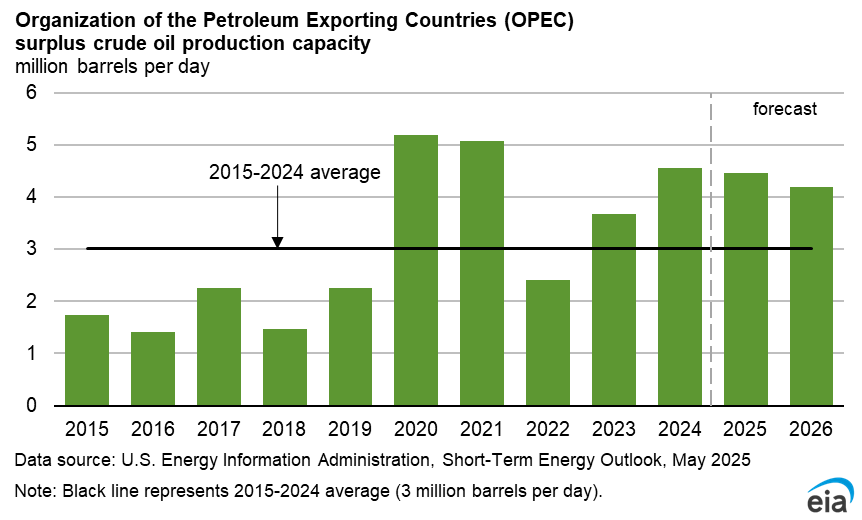 So according to this chart, world oil production is at about 100 million barrels a day and one would expect both demand and supply to increase in line with world GDP. So let us pick a number of 2.5% a year for such growth. From the above graphic, we can see
a) why oil prices have been plummeting through 2015 (in lower graphic see excess production in 2015),
b) we can see how consumption is showing signs of stabilizing (top graph), and
c) this demand stabilization is also causing production to level off since 2014.
To date EV cars would have had negligible impact, but strides in clean energy and conservation are beginning to, at the very least, prevent demand from increasing by that benchmark 2.5% annual growth.
So how important are Automobiles, and their thirst for gasoline, in this dynamic?
Gasoline equals 51% of the total, but not all such gasoline is used by Autos. However, Diesel represents 15% of the total and a good portion of that is used by Autos. 70% of oil is used for transportation.
So to keep the Math simple let's say that Autos create 50% of the demand for oil.
The more accurate number is 45% but then this does not include Trucks etc., and many such vehicles can become battery operated too. Additionally this 50% benchmark is really understating the model, as there are many bi- products of oil (plastic, tarmac) that are sold off for cheap, and many of these bi-product materials will become less necessary as we reinvent our transportation infrastructure and attitudes to recycling. I believe I am correct in assuming that if for some reason Autos no longer required gasoline, the disincentives for drilling would be disproportionately larger. If there is an element of truth in this assumption, then all my analysis below will be very much on the conservative side–i.e. my arguments might very well be significantly understated. I need to find an Industry expert to confirm this specific assertion.
So today Autos (including some trucks) require 50,000,000 barrels a day (including diesel).
By 2040 I believe that Fossil cars will no longer be in mass production–why am I so sure? Let us look at the Math.
Average Cost of a New Fossil Car:
So it does not look like the costs of transporting oneself are ever going to improve. The Model 3 at $35,000 will be less expensive than the average new Car. But we really need to look at the cost of actually owning a car. We will work with the five year cost of ownership.
How do we define the cost of ownership?
It should be quite easy to recognize that EV's will have the following five year cost of ownership advantages:
Fuel Costs:  down by say 90% for EV's
Insurance:  Will be less,  safer—more crumple zone, no fuel tank, less parts to replace.
Repairs:  There will be less to repair.
Maintenance: Less to maintain.
Depreciation: There is less stuff to depreciate–plus the battery, at the end of its life, is  likely to have significantly more residual value than an engine.
Now let us look at the cost of ownership virtually all cars compared to the Tesla Model S (a Luxury Car):
The five year cost of ownership for the least expensive Tesla Model S (a $70,000 Car*) is about $31,000, about half of its peer group. The Basic Model 3 will come it at half that price and thus is cost of ownership will be almost half as much–but call it $18,000 to be safe.
*I am excluding tax credits, as by 2021-24 these will no longer be necessary.
Now let's look at the Model 3 peer group fossil cars, choosing models that have the very best cost of ownership dynamics:
Yes –the Model 3 will cost half as much to own as it competitors and this is before we factor in two huge additional factors. Electric Cars such as the Model 3 will trend lower in costs because battery costs will keep falling and as production scales up, economies of scale and fixed costs will allow the additional units to sell for less. Of course if we chose a cost of ownership over more than five years then the EV savings would become ever more dramatic.
All other Car Company's will have to be competitive with Tesla –their present efforts will not be satisfactory.
Therefore well before 2040 –it will be goodbye fossil car.
Therefore by 2040 Auto demand for gasoline will drop to less than 10,000,000 barrels a day.  Even this is probably overstating the picture. It takes 25 years to replace the fleet of vehicles. But mankind through both technology and motivated by climate change is just moving faster all the time—so prior patterns are not indicative of future patterns. Autonomous Cars will also speed up the pattern. There are projected to be 10,000,000 such vehicles on the road by 2020.
So at just the point in time that autonomous vehicles start to become the norm, that is also about the same point in time that EV vehicles will become clearly the less expensive option.
Additionally a 15 year old fossil car in the year 2030 will just become plain silly, anti-social and uneconomic.
Insurance alone for cars that have to be driven by people will be significantly higher than autonomous vehicles. So let's take our 2040 projection for gasoline demand down to 5,000,000 barrels a day. Now we have sufficient data to be able to pinpoint when oil prices should start crashing (actual market timing is a different issue):
i.e. sometime between 2022-2024 the actual numbers should make the dynamics of the oil demand meltdown crystal clear.
Now there is one Achilles to this premise and that would be the sad story of Aviation fuel.
"In reality, airplanes accomplish the miraculous feat of hurling hundreds of thousands of pounds of people, baggage, and aluminum thousands of miles at high speeds by consuming huge amounts of fossil fuels. In the process, airlines dump massive amounts of dangerous pollutants over our homes and into our atmosphere every day. This great but largely invisible harm will continue to grow at an accelerating rate in the years to come."
Much like the Bloomberg article that I discussed in part 1– this comment is very informative, yet equally unimaginative. We have the technology to be able to massively mitigate the need for short haul air travel. Short hall trips use 50% more fuel per mile as long haul trips.
(In the below comments when I use the word "disruptive", I am referring to both technological innovations and mankind's motivation's that combined will lead to rapid societal changes to such an extent significant as to disrupt standard historical patterns).
Airline fuel at 12.3% demand for all oil, is expected to double by 2030–but by this time Autos will be using far less than 50% of present day oil production, meaning Aviation fuel demand will not grow to merely 25%  but theoretically to 50% and higher, if  left unchecked of the amount of oil produced in 2030. It is obvious that airline travel will become the next bugaboo–but there are solutions and these solutions will be invested in and promoted.
But such airline (disruptive*) improvements will need to be discounted over the next 15 years. So here is the bad news: Aviation Fuels require 12,000,000 barrels a day and this demand is projected to double over the 15 years. Now this would imply 5% growth a year, and this presumes no incremental actions, it fails to factor in newer more efficient planes replacing the older fleets plus a likely bias in such projection. Thus a expect demand for airline fuel to grow at 2.5% per annum, until disruptive actions are taken.
But in my graph I have ignored this Aviation fuel dynamic.
Yes it is very important, but I will also be ignoring the fact that as demand for gasoline falls so will demand for the bi-products of gasoline. Aviation fuel and Gasoline bi-products are difficult to forecast as we enter into a disruptive period for oil demand.
Note that I believe that mitigating factors will rapidly emerge. It would be, for example, irrational to not develop the solar powered Hyper-loop for city to city travel–especially by the time we get to 2025 (at the latest) when air travel will likely become the biggest human contributor to global warming outside of coal based power plants. The money is already there–since at this point it seems rather unimaginative to be focusing on (re)building (lol) America's absurdly dated and minuscule high speed train infrastructure. As we discuss alternative energy it would be silly to ignore that big StupidParty elephant in the room–most people with the slightest of effort could easily have cut their demand for energy dramatically. Today that is easier than ever before:
As of today it is irrational to not replace all of ones lights with LED lights. Just this weekend I saw 40 watt LED Bulbs at Home Depot for 97 cents, 65 Watts for $1.97. These LED lights are 650% more energy efficient than incandescent lights and far less irritating than fluorescent lights–other brands do even better than that.
It would be illogical for Americans to not finally design energy efficient windows. Yes, you might think your windows are energy efficient with double glazed this and vacuum sealed that–but so far it is all a bit of a con, as no one is really taking the problem seriously, because if they did they, would have figured out that virtually all these so called energy efficient windows shrink in the cold temperatures revealing day light where the sliding window meets the frame. Yes freezing temps has direct access to your living room—it is obscene.
Regardless, energy usage in the home should plummet, and such energy will be coming from ever cleaner energy sources. If the government had just done really really really simple stuff since 1980–we would not be having all the global issues that we are confronting and are having to rectify now.
But then it is not simply the death of oil that we can look forward to with untold pleasure.
It is not as simple as EV's replacing fossil cars, not by long shot. Within two years of it becoming clear that EV's will win, we must confront the obvious side effects that will hit Insurance Companies (insurance Companies actually need lots of claims to thrive) and hit Car manufactures–especially the Dinosaurs, and other Industries. The Economist reports:
Autonomous vehicles will also challenge the very notion of car ownership. Cars are among the most expensive things most people own, yet they sit idle, on average, 96% of the time. That is justified by the convenience of having access to a car whenever you need it. These days, however, you can summon a car at will using a smartphone app for a taxi service, car-sharing scheme or rental provider. Google reckons that shared, self-driving taxis could have utilisation rates of more than 75%. If so, a much smaller number of cars would be needed to move the same number of people around. "There will be fewer cars on the road—perhaps just 30% of the cars we have today," predicts Sebastian Thrun, a computer scientist at Stanford University and a former leader of Google's self-driving-car project.

An OECD study modelling the use of self-driving cars in Lisbon found that shared "taxibots" could reduce the number of cars needed by 80-90%. Similarly, research by Dan Fagnant of the University of Utah, drawing on traffic data for Austin, Texas, found that an autonomous taxi with dynamic ride-sharing could replace ten private vehicles. This is consistent with the finding that one extra car in a car-sharing service typically takes 9-13 cars off the road. Self-driving vehicles could, in short, reduce urban vehicle numbers by as much as 90%.
And why will Insurance Companies suffer?
But self-driving cars would also have enormous benefits. Today 94% of car accidents are due to human error, according to America's National Highway Traffic Safety Administration, and the three leading causes are alcohol, speeding or distraction. Accidents kill around 1.2m people a year, reports the World Health Organisation, equivalent to a 9/11 attack every day.

Driverless cars cannot drink alcohol, break the speed limit or get distracted by a text message, so accidents should occur much less often. Google's driverless vehicles have driven 1.8m miles (2.9m kilometres) in the past six years, and have been involved in 12 minor accidents, none of which caused injury and none of which was the car's fault. A study by the Eno Centre for Transportation, a non-profit group, estimates that if 90% of cars on American roads were autonomous, the number of accidents would fall from 5.5m a year to 1.3m, and road deaths from 32,400 to 11,300.
It's a brave new world, with many (some times scary) implications—but I know two things, the death of Oil will make mankind enormously better and reduce various existential threats and secondly I have learnt that the less cars there are in an environment the more pleasant that environment can be. Bicycle heaven Amsterdam, Jerusalem with it's trams, any City with Trams, historic City Centers, Pedestrian Zones in New York City (Go! Citi-bike) – just imagine a world without fossil cars. Yes our quality of life will improve with the decimation of Oil, Fossil cars and with less need for autos, more highways, parking lots etc.